<![if !vml]>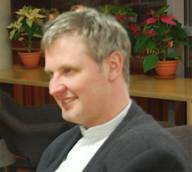 <![endif]>

Dr Martin Ehala
Institute of Estonian and
General Linguistics
Ülikooli 18
Tartu 50090
Estonia
ehalam(at)ut.ee





<![if !supportLineBreakNewLine]>
<![endif]>
<![if !vml]>

<![endif]>
Biography
Martin Ehala defended his PhD in the University of Cambridge on the theory of language change. Thereafter, he affiliated to the Tallinn Pedagogical University where he worked on different positions: 1996-2000 as a dean of the philological faculty, 1998-2008 as professor of general and applied linguistics; 2004-2008 as a chair of the department of Estonian language. From 2008, he works in the University of Tartu as a senior researcher and a professor of mother tongue teaching and applied linguistics (part time).
He has published widely on the aspects of the structure of Estonian as well as language changes in Estonian. Recently his focus is shifting towards more on Estonian linguistic environment and ethnolinguistic vitality. HE has developed an original model for assessing ethnolinguistic vitality. In this field, he has conducted a number of research and development projects, such as "The analysis, modeling and control of the Estonian linguistic environment" (2003-2007), "New language learning system in Tallinn University" (2006-2008), "Ethnolinguistic vitality and identity construction: Estonia in the context of other Baltic countries" (2008-2011).
Besides research, Martin Ehala has been actively engaged in developing methods of teaching Estonian as mother tongue, he has authored six secondary school textbooks of Estonian and a number of teaching aids and materials. In 2003, he was awarded the educational prize of the president of Estonia for his works on the field of mother tongue teaching.
Martin Ehala is tightly connected to professional networks and academic administration. From 2006, he is a member of the Estonian Research Council and the head of the expert panel in humanities. He is acting as an expert for the Council of Europe. From 2002, he has been a member of the Estonian Language Board. From 1996, an editor of Trames, a journal of humanities and social sciences (editor in chief between 1996 and 2002). He is a member of the editorial board in several Estonian academic periodicals and a reviewer for Journal of Baltic Studies, Language policy; and Journal of Universal Language.
Martin Ehala is a socially sensitive opinion leader and valued speaker. In the last 6 years, he has had an average of 10-12 presentations and published about 8-10 opinion articles yearly.
Official CV
<![if !supportLineBreakNewLine]>
<![endif]>


<![if !supportLineBreakNewLine]>
<![endif]>