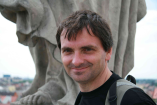 Welcome to my Home Page!

You can find information about my research activity, publications, and presentations, following the links above.

For any question, feel free to contact me writing to:
marco.patriarca [at] gmail.com

LINKS
in the right column are shortcuts to specific pages:

PhysicsSquare
contains a list of some physics-related and other links to on-line talks, e-books, physics web-sites, etc., hopefully useful for research and teaching activity.

ALINE
is a program with a Graphical User Interface for making interactive molecular dynamics simulations, which is used both for research and teaching activity. It is possible to perform numerical experiments by changing the system parameters in real time while visualizing the system time evolution.